Storheim's Breakfast Club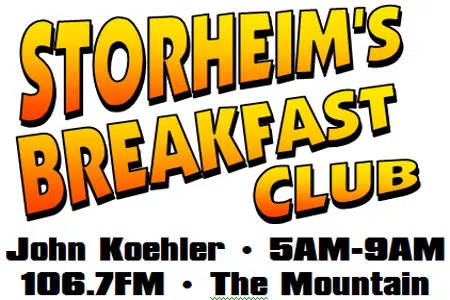 Habitat Deal of the Day – Wednesdays 8:30AM
Tail Waggin` Wednesdays – 8:35AM
McDonald's Trivia – Brain Busters, TV Tunes, Screen Test, Who is This.
Greenway Books Literature Trivia – Fridays 8:30AM

Steve-O's Forgotten 45, Sponsored by First Nat'l Bank & Trust
11-23-18
"Emotion In Motion" (#15, 1986)
Ric Ocasek
Ric Ocasek was the lead singer, guitarist and songwriter in the Boston rock band known as the Cars. They would chart 18 singles between 1978-1988 and had several top 10 singles like "Drive", "You Might Think", "Shake It Up" and "Tonight She Comes." Ocasek also had a bit of solo success. His 2nd album, 1986's "This Side Of Paradise" was a more synthesizer-heavy follow-up to his 1982 debut. It would give Ocasek his only top 40 pop hit. "Emotion In Motion" climbed to #15 for one week in November of 1986.
Listen Wednesday Mornings at 8:35 for a report from Almost Home Animal Shelter.  Learn who is ready for their Forever Homes, and how you can help with donations of supplies or volunteer time.  
Greenway Literature Trivia: Jane from Greenway Books will give a line from a piece of Literature, callers must guess the title of the Book. Correct caller wins a $5 Gift Certificate from Greenway Books. Join us Fridays at 8:30AM on 106.7 The Mountain.