Storheim's Breakfast Club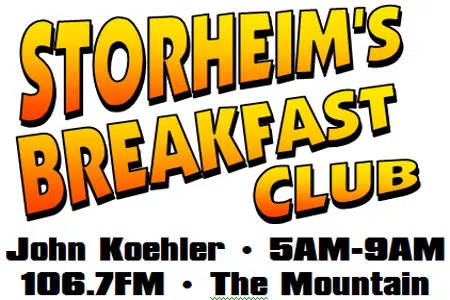 Habitat Deal of the Day – Wednesdays 8:30AM
Tail Waggin` Wednesdays – 8:35AM
McDonald's Trivia – Brain Busters, TV Tunes, Screen Test, Who is This.
Greenway Books Literature Trivia – Fridays 8:30AM

Steve-O's Forgotten 45, Sponsored by First Nat'l Bank & Trust
10-15-18
"This One's For You" (#29, 1976)
Barry Manilow
"This One's For You" was the lead single from Manilow's album of the same name. He'd been on a roll to that point, with 5 previous top 40 singles including the #1's "Mandy" in 1975 and "I Write The Songs" in January of 1976. "This One's For You" had the same dramatic flair of previous Manilow singles, but for some reason just didn't catch on with the public. The follow-ups would do better: "Weekend In New England" would reach the top 10, while the albums 3rd single, "Looks Like We Made It", became the albums biggest, hitting #1. "This One's For You"–the album–would go double platinum, while the single would spend two weeks at #29 in late October and early November in 1976.
Listen Wednesday Mornings at 8:35 for a report from Almost Home Animal Shelter.  Learn who is ready for their Forever Homes, and how you can help with donations of supplies or volunteer time.  
Greenway Literature Trivia: Jane from Greenway Books will give a line from a piece of Literature, callers must guess the title of the Book. Correct caller wins a $5 Gift Certificate from Greenway Books. Join us Fridays at 8:30AM on 106.7 The Mountain.